Insight into air quality through autonomous environmental measurement data technology and digital networking via online sensor manager to confirm air purity. Fully automated database system convenient internet retrieval of data via browser or smartphone apps, user and alarm management.
The entire sensor concept of iBEGO is based on a modular system in which the customer can put together his own sensor to meet the individual measuring tasks. Special designs are also possible due to the modular concept.
The iBEGO sensor head consists of a sensor module platform with integrated wide-range power supply for voltage supply of 6-18V/DC, interface converter (customer-specific) for interference-free transmission for cable lengths up to 1000m, a microprocessor-controlled sensor controller for measurement evaluation and communication between data logger and sensor. If necessary, with optional remote control (relay) connection.
The customer can equip this basic platform individually with the following sensors.
In addition, further sensors can be integrated in the optional sensor module unit.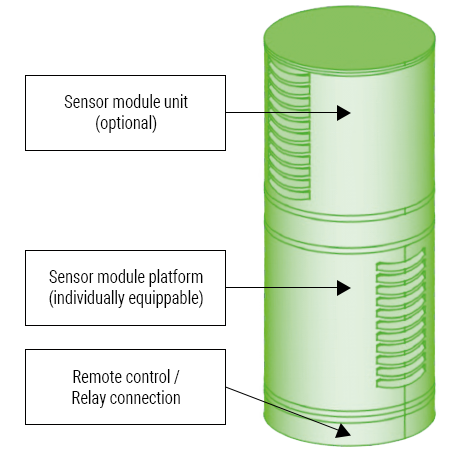 Current possible sensor configuration
Physical measurands:
Air temperature sensor: -30°C … +80°C (Resolution: 1°C)
Air humidity sensor: 0-100% rel. Humidity (Resolution: 1% rel. Humidity)
Barometric pressure: 300 … 1100 hPa (Resolution: 0.1 hPa)
Light radiation: 0 … 10.000 lx (Resolution: 0.1 hPa)
Volume: up to 130 dB(A) (Resolution: 1.5 dB)
Ionising radiation (γ-Radiation)
Fine dust:
Sum of all fractions PM 1, PM 2.5, PM 10 (0,3 μm … 10 μm): 0 … 3000 μg/m³ (Resolution: 1 μg/m³)
Fraction PM 1: 0 … 1000 μg/m³ (Resolution: 1 μg/m³)
Fraction PM 2.5: 0 … 1000 μg/m³ (Resolution: 1 μg/m³)
Fraction PM 10: 0 … 1000 μg/m³ (Resolution: 1 μg/m³)
Gases:
Nitrogen dioxide (NO2): 0 … 10 ppm (Resolution: 0.1 ppm)
Ozone (O3): 0 … 5 ppm (Resolution: 0.05 ppm)
Carbon monoxide (CO): 0 … 500 ppm (Resolution: 1 ppm)
Sulphur dioxide (SO2): 0 … 20 ppm (Resolution: 0.15 ppm)
Hydrogen sulphide (H2S): 0 … 10 ppm (Resolution10 ppb)